Seattle Subsonic - MP3s
REVERB, the Seattle Weekly's music blog, has been one of the city's biggest advocates of local artists for years. At the beginning of this month they gathered samples from 42 local artist and label releases they reviewed and put them in one place for you to get serious earful for the latest sound here in the "City of Music". It will take the better part of your day to listen to them all but what do you really have better to do.. work?
If you want to save time, here are a few that stuck with me. There's a link at the bottom for you to enjoy them all. -it's worth it.
So you're out for a drink with your scenester pals in some hip locale with classically unfamiliar tunes playing overhead. And given the nasal male vox buoyed by a surf-y, smart-Alec (Firefox made me capitalize that) bass line and a snappy, clean, well-plucked guitar, perhaps you thought the Intelligence—beloved and zany Seattle glo-fi outfit—had recently released some new tunes. Or, at the very least, had some tunes you hadn't heard before. Well, you'd be forgiven for that mistake (though if someone offers to flog you, accept!), since their tunes are generally awesome and ringleader Lars Finberg has recently been coined a STRANGER and a GENIUS, but, well, you'd be wrong. Yes, I'm in your head and the band you heard was the GGNZLA-approved Seattle via Portland Orca Team.
If this little bit of crazy sounds like something up your alley, Kissing Cousins is an album you should look into. Orca Team is a bit more committed to melody and song structure than that other band's bizarro world, and the "Mod"-inspired sparse quirky pop with distant, tape hiss recordings just might make you wanna bust the Twist, the Swim, the Watusi or EVEN THE MASHED POTATO GUYS. Also, you might need a beach blanket. Leif Anders slaps the bass and sings, Jessica Baldauf runs the guitar section and Dwayne Cullen holds down the snare-heavy skins. The music is real good-like, but I think they could really hit it out of the park with some more polished recordings (gasp!). Blasphemy, I know.
Get the cassette or mp3′s over at GGNZLA's bandcamp or check out a few highlights below:
Orca Team – You've Got Everything Made
Note: the band released another limited edition cassette through High Fives and Handshakes, which included—you guessed it—a cover of the Intelligence's "The World Is Not A Drag". Both came out in July.
I've kinda been digging on this band Blouse from Portland. They've, predictably, got the wistful and gloomy early 80′s emo-smear-pop thing going on. I've highlighted their labelmates, Soft Metals, a few times, and while the two don't really sound that much alike, much can be gathered from those different than you. We should be more open-minded!
Below you'll find a video for their single, "Videotapes", which uses a bunch of Minolta stock advert footage from decades past. I also added a few mp3′s I found on some of those bigger, more successful music blogs. The self titled album will be out on Captured Tracks November 1st.
Blouse – "Videotapes" (Music Video) from Charles Griffin Gibson on Vimeo.
Flexions are a band to keep somewhere in your crowded brain-space, whether in the frontal lobe or somewhere on the back burner. They're a rare band with alternate takes on various genres and methods. Mostly though, they're a dub-infused, post-punkish, quiet-riot kind of lock-step outfit with one of the city's best guitarists (Devin Welch) and also one of it's best drummers (Tyler Swan) pulling full-time duty. Robin Stein has plenty of grooves snaking out of his bass guitar, too. Relive their February Jewelbox show here.
Anyway, thankfully, their new record is finally on the docket, to be released by local imprint Cairo Records on August 2nd (CD / LP / MP3). It goes by the name of Golden Fjord, and listening to it for the first time, I must contain my excitement. Production seems to be top-notch, and there are many more auditory treats than just the simple schematic of guitar / bass / drum that maybe you heard live or on prior recordings. Below are a couple of songs to whet your whistle. Whet away…
Flexions – Seething Mass from Cairo Records on Vimeo.
Pretty stoked for local psych-rock elevators Night Beats self-titled LP, out June 28 from Trouble in Mind.

SEE THEM:
JUN 14 2011 – WONDER BALLROOM W/ BLACK LIPS – PORTLAND, OR
JUN 28 2011 – SLABTOWN – PORTLAND, OR
JUN 29 2011 – CHOP SUEY W/ BARE WIRES – SEATTLE, WA
JUL 01 2011 – NEW FRONTIER – TACOMA, WA
AUG 07 2011 – COMET DAY SHOW W/ TRMRS – SEATTLE, WA
So, here's the new album cover from Handsome Furs: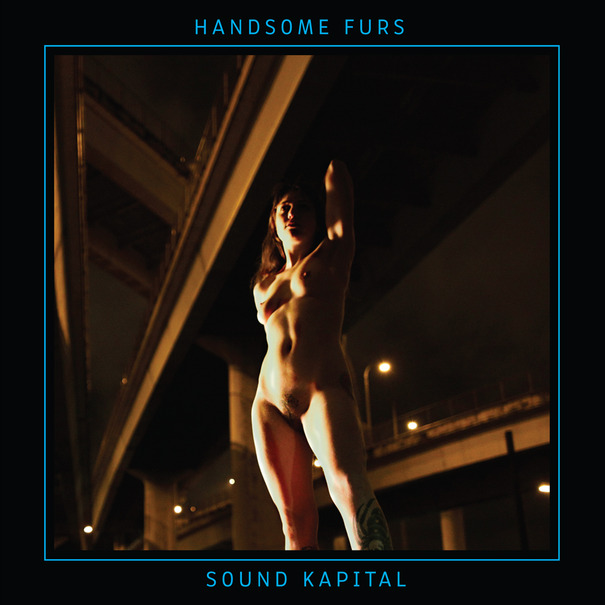 Given Face Control's nasty Rottweiler mugshot and its slightly less-than-lewd promotional photos (revisit those here: 1/2/3/4/5/6/7/8) there's really not much to be surprised about here. Those who paid attention to the liner notes of that awesome album probably also noticed a thumbnail of a topless Alexei posing in the snow. This, up there, is not her. The Montreal duo's third album, Sound Kapital, will be available June 28th but since the label has made a few .mp3s available, I thought I should post both the music and the cover. Plus, nudity!
Methinks it will be a banger. A pre-order, bee tee double-u, gets you an instant download of the .mp3s, as well as 9-postcard set featuring photos taken by the band packaged in a fancy custom envelope. Perhaps they will resemble this album's promo photos?:
One can only hope. Handsome Furs will play the Capitol Hill Block Party Saturday July 23. Also, one more thing—here's Alexei's response to the album cover, courtesy of the Wolf Parade, et al fansite:
I am so thrilled that folks finally get to see one image from the album artwork. I've been biting my tongue for it to come out. I am immensely proud that Sound Kapital features the work behind three brilliant photographers: Bradley Sellers, Scott Coffey and Matthew Niederhauser who shared our vision of expressing what it means to be human in this frequently oppressive modern landscape. The night images in the album were taken in America and the day images were taken in a very bizarro waterpark in downtown Beijing.

It's hard to be alive… but less so when there are people who make such beautiful images to share with us. You have to become your own heroes in this world, I think. Strength, fearlessness, utter rawness and absurdity are our human rights.
J Mascis is a bonafide badass. He's turned it down a few notches, though, for his new acoustic record, Several Shades of Why. I read where someone—I don't remember who—described the songs as lullabies for adults. That may be true, but I'm gonna get it and play it for my baby daughter. I think she'll like it, too.
J Mascis – Is It Done from Sub Pop Records on Vimeo.
Also, here's the requisite free .mp3 from Sub Pop:
"Not Enough"
If not for the irresistible electro-pop wonkiness, then at least to see what vocalist Claire Evans might say or do. She is, after all, an avid science nerd to the nth degree, consuming and critiquing countless sci-fi novels and blogging about contemporary science over at scienceblogs.com (she blogged about SETI and Carl Sagan on my birthday a few weeks ago; I'm subscribing to that shit). YACHT's album See Mystery Lights was one of my favorite things about music in 2009, and if the first single from the forthcoming Shangri-La (6/21/11 on DFA) is any indication, it, too, will be a bubbly, mantra-laden exercise in excitable neo-dancefloor evangelism.
Download: "Dystopia (The Earth Is on Fire)"
Austinist has a great 2-part interview with Evans that you will like (one / two), which sees the singer expounding on such topics as Utopia-as-pipe-dream-or-Fascism, the difference between science and art, and the freaky advancement of the human brain as computer interface. Plus, the music.
Bonus facts: Jona Bechtolt makes all the rad beats; YACHT is from Portland.
Neumos
$13 adv / all ages
w/ Jeffrey Jerusalem and Light Asylum
I haven't yet mentioned Com Truise, but rest assured the New Jersey power producer (real name Seth Haley) is easily one of my favorite finds of 2011. I've unceremoniously dubbed his instrumental digiscapes as "muscle melt", as their brawny, burly character is a stark contrast to the hot liquid complexity that oozes from his speakers. Haley has his recollected reference points, of course, but he's adept at creating and maintaining a distinct peculiarity within those confines. He himself calls it "mid-fi synth-wave, slow-motion funk". WORD.
The other cool thing is that he makes, and makes available, a lot of music. His Cyanide Sisters EP is interstellar and mostly how I've come to know him; in fact you can still download it for free on his website. DO THAT. Yesterday, he released Fairlight through Ghostly International, a 3-track precursor to his full-length, Galactic Melt, due out July 5th. Listen to 2 of 3 Fairlight tracks below, one of which you can grab the .mp3 here.
And here's the free track from Galactic Melt, via Pitchfork:

.

.
It's like a young Seahorse…
Softy surf-rockers Seapony have ceremoniously signed to the Hardly Art label of Seattle, Washington. You know the one, it's the one with hardly any art on it. HA HA. I put up a small feature on the sacchariferous band back in January, and I guess the label read it because they went ahead and decided to put the band's record out. GO FIGURE.
That bandcamp link up there has the Dreaming EP streaming, but the label with hardly any art also offered a few .mp3′s (they don't count as art, btw, so, still hardly any) for the consumption of internet music fans. "Blue Star" is a new track from the forthcoming full-length Go With Me, due out May 31st. Consume those below in typical fashion, internet music fans.
See the band play the Crocodile tomorrow (4/22) with the Pains of Being Pure at Heart.