December 31st, 2009
Yes, I know "best of" lists are played out. Everyone has one, and I always contemplate whether or not I should make one. Everyone's a critic now…blah, blah, blah. But every year, people always ask me about it and some thank me for hipping them to some good stuff so I keep cranking them out. Plus, I'm a dj so you should listen to me!
.
It's December 31st, and I always work best under pressure so here it goes. My best albums of the year (that felt like a month)…2009.
.
BEST ALBUMS OF 2009
.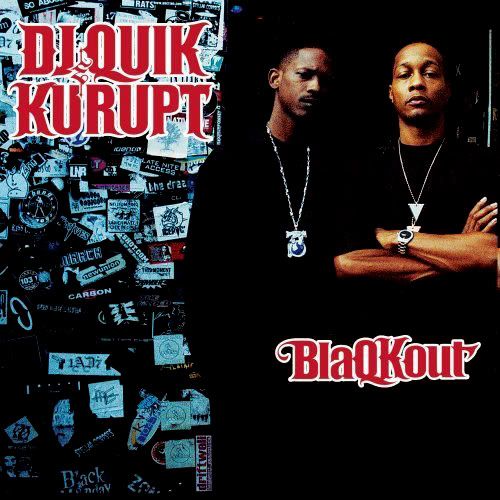 25. DJ Quik & Kurrupt – Blaqout
This album is pure West Coast. DJ Quik's simplistic production is a change of pace on this record, but Kurrupt rides each beat like it was a 6 fo' adding another layer to the mix as if it was an instrument. Your ears will be pleased with the results
.
.
.
24. Shawn Lee – Soul in the Hole
Shawn Lee is a master funk musician. He plays, records and arranges every instrument on his albums. This time around he recruits some top notch vocalists to season each of his fine tuned soulful recipes and the finished product is quite scrumtrelescant.
.
.
.
23. D. Black – Ali'Ya
206 and Sportn' Life representative D. Black released his sophomore album amidst many questions. Is he a Christian rapper? A Jewish rapper? Well, this album is non denominational, but incredibly personal, containing positive messages to the community and youth over soulful drum heavy beats provided by town greats Jake One and Vitamin D. He dropped the tough guy talk and started speaking from his heart and we are all better for it. This is a local album to proud of.

.
22. N.A.S.A. – The Spirit of Apollo
This album made it's way into my top 25 because about half of it was on repeat for a good portion of 2009. The production was handled really well and even though some of the guest spots lacked the rocket fuel needed to be on my radar the album as a whole was a success for such an ambitious project.

.
.
21. Raekwon – O.B.F.C.L.II
The return of the Chef! Raekwon pulled no punches in this 2nd installment to his classic purple tape. After delay after delay I admit I was a bit worried, but this album satisfied all my cravings for what the Chef was capable of cooking up. Rza has some classic Wu gutter production on this and as a whole, this was one of the better hip hop albums to come out in a long while.

.
20. Brother Ali – Us
Brother Ali gets very introspective on this album and radiates optimism that is downright contagious at times. He is a gifted wordsmith and rides the back beats on this record with ease. Still not as good as his classic 'Shadows on the Sun' but this was a strong release that is sure to keep Brother Ali in the underground spotlight for years to come.
.
.
19. Yeah Yeah Yeahs – It's Blitz
This album could have been a disaster, but it was instead a triumph. The Yeah Yeah Yeahs went mainstream and it worked. They are this countries biggest rock band at the moment and they embraced a new musical direction that many band would have swung at and missed. It's Blitz hit for the cycle.

.
.
18. Breakestra – Dusk til Dawn
Breakestra can do no wrong. From their live mix series to their debut album a couple years back, nobody really captures Cali funk and soul like these fellas. If you like breakbeats, vibrant horns, wah-laced guitar and jazz flutes get on the good foot and pick up this record.

.
.
.
17.  Electric Wire Hustle – Every Waking Hour

This is an perfect example over where hip hop and neo soul can go in the next decade. Take what Common started on 'Electric Circus,' up the wattage and add some down tempo Detroit style shuffle and out comes Electric Wire Hustle through your speakers. This is a blissful listening experience for those craving something new heading into the new year.

.
16. The XX – XX
The only way I can to describe this album is BIG. Big sounds, big chords, big arrangements, big vocals. The tracks on this album all feel like they were made with a purpose. For someone that doesn't listen to much rock, this is the type of shit I can get down with.
.
.
.
15. The Physics – High Society
This EP was my go to summertime feel good record. It's short but ever so satisfying. Each track has a very sensual vibe to it and makes for a real good soundtrack if your tryin to spend some quality time with the lady, if you catch my drift. The beats are the audible equivalent to a sunshiny day off in the 206 and MCs Thig Nat and Monk Wordsmith have such an effortless delivery that you can't help but feel on the 'higher' end of things.
.
14. Blakroc – Blakroc
This could be the most hyped record of the year, but it delivered on many levels. The beats are well constructed and the combo of BK and hip hop is kind of a win no matter how you look at it. Some of the guest spots were mailed in and the inclusion of a Jay-Z knock off (NOE) was kind of a joke, but there are some seriously great songs on here. Billy Danze of MOP shines on these beats and I would love to see a full lenth Black Keys / MOP collaboration, but for now I am satisfied with this offering.
.
13. Dirty Projectors – Bitte Orca
This was a wake up call for me. I didn't know this type of rock existed. I was not just surprised but really excited and blown away all at once. The vocals, the production and arrangements are unlike anything I had ever heard before and the have some seriously fresh loops that are ripe for sampling.  (Which I would do if  Seattle outfit 'They Live" hadn't already given Stillness is the Move the business). Do yourself a favor and check these guys out if you haven't already.
.
12. Maxwell – BlackSummer's Night
Maxwell was back with a vengeance this year! I can't even tell you when he released his debut and quite frankly I don't feel like googling it. I will tell you that this album is a magnificent soul offering and features some of the best mixing and production of any record to come out this year. Maxwell does a fantastic job on vocals . His range is jaw dropping and his lyrics are incredibly moving, but the backing band and the engineers in the lab are the ones that really make this album as great as it is.
.
11. Mos Def – The Ecstatic
Black Dante was another candidate for comeback of the year in 2009. His last few efforts could be summed up in one word, lazy. This album is a return to form. He picks tremendous beats from Madlib and Oh No, and even has a guest spot from Rick the Rulahhhh. That is a huge win. Still lacking a strict focus, this album takes you on a great ride through the mind of one of hip hop's most talented and creative figures.
.
10. Mayer Hawthorn – A Strange Arrangement
I was a late bloomer on this album. I gave it a few run throughs when I first got it and wasn't all that impressed. Then I went and saw him perform it live and it all clicked. This is Mayer's love letter to Motown and his hometown of Detroit. He arranged and performed all the instruments on this album and that shows his dedication. The voice sounds better live than on the record but that doesn't take away from the fact that this is a close to a true Motown vibe as your will get going into 2010. Classic tracks that are all based around love won and lost…and who can't relate to that?
.
09. Madlib – Tha Beat Konducta 5 & 6
This is a the work of a genius in mad man's clothing. Wait…you want to dedicate in entire album to Dilla and try to imitate his unfuckwittable sample and production style? Most producers would fall flat onto their mpc pads, but Madlib pulled it off flawlessly. From the drum breaks chopped to the air horn drops and quirky samples, Madlib nails the Dilla feel and you don't feel cheated or sad…you just sit back and enjoy every minute and note of it. While the man himself smiles and nods his head in approval from up on high.
.
08. DJ Vadim – U Can't Lurn Imaginashun
DJ Vadim is one of the most original musicians you will find out today. He is known for sampling very authentic and organic sounds in crafting his soundscapes, but he went an entirely different direction in 2009. He embraced the new technologies available to him and went to town. This album is very tech centric and used everything from grimey synths to autotune to the talkbox to get a very digital vibe that melds well with his use of live percussion and the vocalists. There are a wide range of guests that make this such a diverse listening experience and the way Vad totally flipped the script on what people expect from him make this one of my favorite records of the year.
.
07. Black Joe Lewis – Tell Em What Your Name Is!
This is gutter blues and funk and soul and rock n roll. It is the perfect blend of everything I love about these genres. There is the pain that comes along with the blues. The party that comes along with the funk. The love that comes along with the soul. And then there is the don't give a fuck attitude that comes along with rock n roll. This is a fantastic album and makes me want to learn guitar or baritone sax every time I listen to it. What are you waiting for?
.
06. Dan Auerbach – Keep It Hid
There isn't much new or different with this album compared to the Black Keys records, and that is why it is in my top 10. I love some gritty blues and this album reaffirms that Dan Auerbach owned this genre the last decade. His voice is the epitome of blues and his guitar is complimented my a full backing band this around. There are very few flaws on this LP and the songwriting is stellar.
.
.
05. Fresh Espresso – Glamour
P Smoov and Rik Rude took the Seattle area and radio waves by storm this year with their debut album. The production is beyond amazing and I would consider it the ultimate party soundtrack…house, club, bar, whatever. The theme is living life glamorously no matter how many commas are in your bank account. Many of the songs were written when Peter was couch surfing around town and you can hear his hunger in every verse and every note. Rik also has some of the most rewindable worthy lines of any hip hop release this year. I'm not giving any of them away so just go buy the damn album already.
.
04. Shabazz Palaces – Shabazz Palaces & Of Light (2 EPs)

These two EPs were basically the two sides of a tape or a record and I would consider them 2 parts of a whole. This is the most forward thinking, raw and real hip hop album to come out in a very long time. This is the brainchild of Grammy winning local MC Ishmael Butler, AKA Butterfly of Digable Planets, and he speaks with such wisdom and experience that you can't help but absorb the lessons he delivers. The production is very unique and heavy hitting, incorporating a lot of live percussion and dirty sample chops, but the sequencing of the beats and the albums tracks make it one incredibly journey. I can't recommend this album enough. Best of the 206 hip hop by far and very close to my best overall.
.
03. Little Dragon – Machine Dreams
This is my just press play album of 2009. Lead singer Yukimi Nagano is an angel. No other way to put it. Her voice is straight from heaven. It is not of this world. She has such a great range and uses her voice in ways no one else can, except for maybe Erykah Badu and I think she even has her beat. Here we find Yukimi working her magic over the 80′s new wave infused stylings of her Swedish brethren. The beats are really good, and the way they tweak their instruments is something to behold, but Yukimi steals the show. She is superstar material, but I think she is beyond that.
.
So I cheated. I have a tie for my top spot. Sue me.
.
01. Wheedle's Groove – Kearney Barton
This is the sequel to the original Wheedle's Groove that came out on local label Light in the Attic. That was a compilation of the best in Seattle funk from the 70s, and this album was birthed from that inspired project. Many of the original artists came together and recorded this gem at Kearney Barton's studio in Seatttle in 2008 and the results are so good I can't fully express it in words. Every time I play this record in the car or a song from it when out djing someone always asks me who it is and where they can get a hold of it. It is that good. The cover of Soundgarden's "Jesus Christ Pose" makes my hair stand up on the back of my neck.
.
01. Dam-Funk – Toeachizown
I am a lover of all things funk. This is pretty well know to those that are familiar with my tastes. This album tops my list because it was the funkiest thing to come out the past 12 months, plain and simple. Dam-Funk is an LA based West Coast producer and dj that considers himself to be the "Ambassador of Boogie Funk." He earns that title and more with this magnus funk opus. All authentic 80s era analog synths and drum machines, this record just ooze's California bounce and P Funk. Each song is long, over 5-6 minutes, and very few have vocals. Sweeping funk instrumentals that can brighten any day. If I were to have to choose a soundtrack to my life this would be my choice. I dare you to listen to "Rollin" and "Hood Pass Intact" and not have a little extra bounce in your step. Try it and you'll see why this is my top pick.