Seattle Subsonic - December, 2009
Yes, I know "best of" lists are played out. Everyone has one, and I always contemplate whether or not I should make one. Everyone's a critic now…blah, blah, blah. But every year, people always ask me about it and some thank me for hipping them to some good stuff so I keep cranking them out. Plus, I'm a dj so you should listen to me!
.
It's December 31st, and I always work best under pressure so here it goes. My best albums of the year (that felt like a month)…2009.
.
BEST ALBUMS OF 2009
.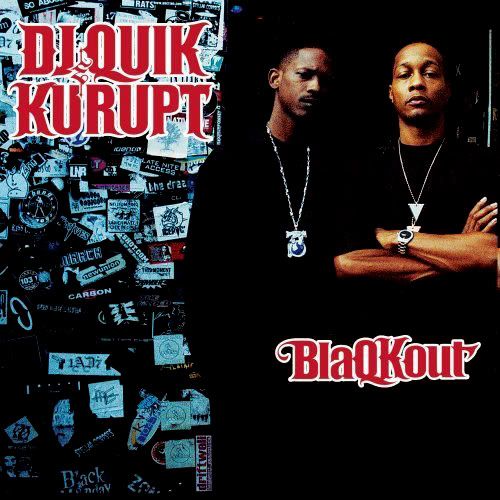 25. DJ Quik & Kurrupt – Blaqout
This album is pure West Coast. DJ Quik's simplistic production is a change of pace on this record, but Kurrupt rides each beat like it was a 6 fo' adding another layer to the mix as if it was an instrument. Your ears will be pleased with the results
.
.
.
24. Shawn Lee – Soul in the Hole
Shawn Lee is a master funk musician. He plays, records and arranges every instrument on his albums. This time around he recruits some top notch vocalists to season each of his fine tuned soulful recipes and the finished product is quite scrumtrelescant.
.
.
.
23. D. Black – Ali'Ya
206 and Sportn' Life representative D. Black released his sophomore album amidst many questions. Is he a Christian rapper? A Jewish rapper? Well, this album is non denominational, but incredibly personal, containing positive messages to the community and youth over soulful drum heavy beats provided by town greats Jake One and Vitamin D. He dropped the tough guy talk and started speaking from his heart and we are all better for it. This is a local album to proud of.

.
22. N.A.S.A. – The Spirit of Apollo
This album made it's way into my top 25 because about half of it was on repeat for a good portion of 2009. The production was handled really well and even though some of the guest spots lacked the rocket fuel needed to be on my radar the album as a whole was a success for such an ambitious project.

.
.
21. Raekwon – O.B.F.C.L.II
The return of the Chef! Raekwon pulled no punches in this 2nd installment to his classic purple tape. After delay after delay I admit I was a bit worried, but this album satisfied all my cravings for what the Chef was capable of cooking up. Rza has some classic Wu gutter production on this and as a whole, this was one of the better hip hop albums to come out in a long while.

.
20. Brother Ali – Us
Brother Ali gets very introspective on this album and radiates optimism that is downright contagious at times. He is a gifted wordsmith and rides the back beats on this record with ease. Still not as good as his classic 'Shadows on the Sun' but this was a strong release that is sure to keep Brother Ali in the underground spotlight for years to come.
.
.
19. Yeah Yeah Yeahs – It's Blitz
This album could have been a disaster, but it was instead a triumph. The Yeah Yeah Yeahs went mainstream and it worked. They are this countries biggest rock band at the moment and they embraced a new musical direction that many band would have swung at and missed. It's Blitz hit for the cycle.

.
.
18. Breakestra – Dusk til Dawn
Breakestra can do no wrong. From their live mix series to their debut album a couple years back, nobody really captures Cali funk and soul like these fellas. If you like breakbeats, vibrant horns, wah-laced guitar and jazz flutes get on the good foot and pick up this record.

.
.
.
17.  Electric Wire Hustle – Every Waking Hour

This is an perfect example over where hip hop and neo soul can go in the next decade. Take what Common started on 'Electric Circus,' up the wattage and add some down tempo Detroit style shuffle and out comes Electric Wire Hustle through your speakers. This is a blissful listening experience for those craving something new heading into the new year.

.
16. The XX – XX
The only way I can to describe this album is BIG. Big sounds, big chords, big arrangements, big vocals. The tracks on this album all feel like they were made with a purpose. For someone that doesn't listen to much rock, this is the type of shit I can get down with.
.
.
.
15. The Physics – High Society
This EP was my go to summertime feel good record. It's short but ever so satisfying. Each track has a very sensual vibe to it and makes for a real good soundtrack if your tryin to spend some quality time with the lady, if you catch my drift. The beats are the audible equivalent to a sunshiny day off in the 206 and MCs Thig Nat and Monk Wordsmith have such an effortless delivery that you can't help but feel on the 'higher' end of things.
.
14. Blakroc – Blakroc
This could be the most hyped record of the year, but it delivered on many levels. The beats are well constructed and the combo of BK and hip hop is kind of a win no matter how you look at it. Some of the guest spots were mailed in and the inclusion of a Jay-Z knock off (NOE) was kind of a joke, but there are some seriously great songs on here. Billy Danze of MOP shines on these beats and I would love to see a full lenth Black Keys / MOP collaboration, but for now I am satisfied with this offering.
.
13. Dirty Projectors – Bitte Orca
This was a wake up call for me. I didn't know this type of rock existed. I was not just surprised but really excited and blown away all at once. The vocals, the production and arrangements are unlike anything I had ever heard before and the have some seriously fresh loops that are ripe for sampling.  (Which I would do if  Seattle outfit 'They Live" hadn't already given Stillness is the Move the business). Do yourself a favor and check these guys out if you haven't already.
.
12. Maxwell – BlackSummer's Night
Maxwell was back with a vengeance this year! I can't even tell you when he released his debut and quite frankly I don't feel like googling it. I will tell you that this album is a magnificent soul offering and features some of the best mixing and production of any record to come out this year. Maxwell does a fantastic job on vocals . His range is jaw dropping and his lyrics are incredibly moving, but the backing band and the engineers in the lab are the ones that really make this album as great as it is.
.
11. Mos Def – The Ecstatic
Black Dante was another candidate for comeback of the year in 2009. His last few efforts could be summed up in one word, lazy. This album is a return to form. He picks tremendous beats from Madlib and Oh No, and even has a guest spot from Rick the Rulahhhh. That is a huge win. Still lacking a strict focus, this album takes you on a great ride through the mind of one of hip hop's most talented and creative figures.
.
I've finally pulled together the top 20 singles I  found to be outstanding  from  2009. My favorites for this year span the entire spectrum from the bright and cheery to dance hall grandeur, fringe hip-hop to R & B redux. One thing I noticed is that this years list is decidedly marked by old-timey folk revival. For one, there's Portland's Builders and the Butchers who take on a dark approach to the whole jangling jubilation of the mountain song. The damp mossy days of the Pac NW have steeped into their lyrics focusing them towards death, the devil and other unmentionables found in the deep dark well. Seattle's Cave Singers on the other hand are a more free-spirited clan, instilling an undeniable need to dance rather than broody introspection. Far and away the best local band I've seen live in recent times.
.
This year I discovered some bands that have been producing for years but only just appeared on my radar. The most outstanding of which would be The Heavy. Hailing from Noid, England, (and apparently spending a significant stint in Seattle) they play a style of neo-soul full of crunchy guitar and horns, like a mix of old Black Keys and Jon Spencer. Their last album, The House that Dirt Built, is riddled with hits – sometimes sleazy, sometimes straight rockin, always addictive.
.
Now while the Heavy have producing albums since 2007, Black Joe Lewis and the Honeybears put out their first release this year, but if I were to guess I'd say it sounds as if it were put out by Stax Records in the 60′s. On their album Tell 'Em What Your Name Is the 8-piece ensemble, lead by the heavily funktified vocals of Joe Lewis, struts their way through a mix of Soul, Funk and R&B  that would impress James Brown himself.
.
One other funny thing I found about this years faves is that they keep appearing on TV. Phoenix's music is used in the Cadillac commercials, Matt and Kim were featured in a Bacardi rum ad and Peter, Bjorn and John bring extra light to the It's Always Sunny… spots. Other greats finds this year are simply far too numerous for listing out in detail so I'm going to let the music do the rest of the talking.  Some relatively obvious but others are more  obscure, and hopefully you'll be introduced to something new. I've inverted the list to go "most best" to "least best" – it takes away some of the mystery but hell, life is short, viva hedonism.
.
Enjoy and Happy New Year!!
.
01 The Heavy -No Time - The House That Dirt Built
.
02 Thunderheist - Jerk It - Thunderheist
.
03 Cave Singers - At the cut - Welcome Joy
.
04 Phoenix - 1901 - Wolfgang Amadeus Phoenix
.
05 Handsome Furs - Talking Hotel Arbat Blues - Face Control
.
06 Final Spins - Who Whoa - City Of…
.
07 Matt and Kim - Daylight - Grand
.
08 Yeah Yeah Yeahs - Heads Will Roll - Its Blitz
.
09 Dan Auerbach - Heartbroken In Disrepair - Keep it Hid
.
10 tUnE yArDs - Sunlight - Bird Brains
.
11 Nickodemus - Sun Children - Sun People
.
12 Black Joe Lewis - Sugarfoot - Tell'em What Your Name is
.
13 Builders and the Butchers - Devil Town - Salvation is a Deep Dark Well
.
14 peter bjorn and john - nothing to worry about - Living Thing
.
15 Thermals - How we Fade - Now We Can See
.
16 K-Os -I Wish I Knew Natalie Portman - Yes!
.
17 Gossip - Heavy Cross - Music for Men
.
18 Electric Tickle Machine - Part of Me - Blew It Again
.
19 BrakesBrakesBrakes - Crush on You - Touchdown
.
20 Deer Tick - Easy - Born on Flag Day
NPR is currently streaming the new Laura Veirs album, July Flame, as part of their Exclusive First Listen series. You can (and should) listen to it here. Veirs, based in Portland, is easily one of the best solo artists to come out of the Pac Northwest (for those interested in picking nits, yes, she grew up in Colorado). And I've only really listened to two of her records prior to this one. To me, 2005′s Year of Meteors is a highlight of her catalog, and where that release had a bit more of a bouncy, filled-in loveliness to it, July Flame, while not without its brighter moments, delves more into her spartan, folk-driven leanings. I don't normally like to list off a bunch of other artists when describing a musician, but I'm instantly reminded of both Chutes Too Narrow by the Shins and Only As The Day Is Long by Sera Cahoone while listening to this. I think it's mostly the voice—hers is a mid-range, tomboyish flight brimming with both confidence and anxiety—but the moods and tones and instruments and arrangements also recall those two excellent records. Lots of piano, banjo, pedal steel, violin, and good ol' regular guitar to boot.
.
I think the title track will be the focal point of most listener's affection—and for good reason, it's awesome, and about a peach!—but the entire record is fantastic. So far, I'm also really diggin' on "Sun Is King", "Summer Is The Champion", and "Wide-Eyed, Legless". Veirs is heading out on a European tour for most of January and February, but will follow that up with a US tour. You can catch her and her backing band—the Hall Of Flames—at the Tractor on March 13th with the Old Believers and Cataldo. July Flame is due out January 12th on Veirs' own label, Raven Marching Band Records. Hit the link.
.
HT: me
Christmas Don't Be Late by Alvin & the Chipmunks
.

.
R2D2, We Wish You A Merry Christmas
.

So, coming up with this list proved to be a bit more difficult than my Northwest version. I'm not quite sure if it was due to quantity or quality, but I had to ignore or eliminate a handful of records that in another year, I might've included. In the end, though, I sunk into a stack of pretty amazing albums, all with more ambient or electronic tendencies than those heavy with guitar and trad-rock ilk. Plenty of guitar, to be sure, but plenty of non-guitar, too. It was a good year for that.
.
10. Le Loup – Family (Hardly Art)
"It follows suit, then, that the second record from the D.C.-area band, courtesy of Hardly Art, depicts an amorous, wide-eyed view of the universe and its indigenous contents. Entitled Family (naturally), it's a collection of songs that should be experienced in the presence of an outdoor landscape, with a macrocosmic frame of mind, or with a circle of friends. It's an album that is best described using terms such as 'percussive', 'tribal', and 'folk'; or 'pastoral', 'rustic' and 'anti-urban'. There are idyllic reverences to beach towns, open plains, mountain foothills, oceans, peaks and valleys. There is nothing pristine or rigid about these songs; their fluidity and rugged familial openness are utterly human and, ultimately, vulnerable." [Full Review & .mp3s]
.
9. Junior Boys – Begone Dull Care (Domino)
It's not quite certain whether Canadian croon-poppers Junior Boys made the ninth spot based on past memories or present-day sensation. Likely it's a combination of the two. For inexplicable reasons, the calm and collected heart-thumping of this band sticks stubbornly to my hippocampus. First poignant memory: 2006 Yule Benefit at Neumos. Second poignant memory: riding around the trains of Germany in 2007. Third poignant memory: October 2009 at Chop Suey. Fourth poignant memory: miscellaneous geek out sessions with a party of one. Begone Dull Care might be the least attractive of the duo's catalog, but to me, it was a graceful expansion of their commanding dance-throb, equal parts emotional blue and electric blue. Nobody does electro-beats this gallantly.
.
8. The xx – xx (Young Turks)
"In sound, the music is defined by (Oliver) Sim and (Romy) Croft trading flirty, pillow-soft vocals (I prefer her endearing Londoner lisp to his sleepy schoolboy singing) over his plucky, unfettered bass lines and her lonesome, crystal-clear guitar melodies. The same kind of hi-pitched somber melodies made popular during the early 80s post-punk scene. The usual accoutrements of romantic synths and background drums round out the rest of the ear candy. The first half of the album is quite revealing, with "VCR", "Crystalised" (watch a great live video of this song on KEXP's blog) and "Heart Skipped A Beat" impeccably introducing the xx's minimalist MO. But it's the final three tracks— "Infinity", "Night Time" and "Stars"—that really click, creating a pitch black, wide open lover's lane that slowly seeps into the deep, never to return again." [Full Review & .mp3s]
.
7. The Raveonettes – In And Out Of Control (Fierce Panda / Vice)
"Since 2003, the Danish duo has concocted four increasingly addictive albums that don't differ terribly from one single-dose narcotic formula. That formula, for those caught unawares, is essentially created by dissolving an infatuation with lovesick, pre-hippie American pop into a trashy, drug-and-sex induced obsession with 80's shoegaze storms…So, no, the new LP, In and Out of Control, doesn't bring any new toxins to the table, but (Sune Rose) Wagner and (Sharin) Foo sure as hell know what they're doing. And they sound good doing it. Right off the bat, with "Bang!", they're singing (in the androgynous dual-harmony style they're known for) about teens having summer sex." [Full Review & .mp3s]
.
6. Yeah Yeah Yeahs – It's Blitz! (Interscope)
It seems to me that there's a certain sect of the population that believes the Yeah Yeah Yeahs (can we all now agree that's one of the coolest band names ever?) have never again reached the critical climax of Fever To Tell. While nothing short of a scintillating, searing stunner, I do believe their second and third albums are just as tantalizing. Where we see the difference, however, is in the difference. From raw power to heavy power to disco power, the trio has continued to surprise and evolve with equal success, and in contradiction to the millennial status quo. The band's latest Blitz-krieg showed us that Nick Zinner is more than just a monolithic guitar czar; he also has some slinky synths shoved up his sleeve. It showed us that Karen O not only has a soft side (albeit a zealous one), but that her Dragon Queen risk-taking—including her score for Where The Wild Things Are—has her hysterically headed to a stratospheric altitude. And it showed us that Brian Chase has zero qualms with either of them.
.
The stage was set up to be a winter wonderland. Fake snow? Check. Drums and Amps wrapped up like presents? Check. A fake holiday fire place? of course! can't have a Christmas rock show without a fake fire!
MSHVNB played an amazing show this past weekend at the crocodile. Even being a member down. Their sound and stage presence was good as always. So much energy that this group puts out. Layers of sound to fill your ears. And tennis balls being bounced off a tom drum to keep you on your feet and paying attention.
.

The opening bands were something to check out. Having never heard of "Left" i was enjoying their sound. Was not enjoying their Heckler though. Is there some kind of requirement to get into the crocodile that you already have to be drunk, loud, and  obnoxious? I love the venue but the last few shows i been too seem to attract some really drunk people who feel the need to share with the band.
.
but i guess its close to the Holidays. Everyone is a bit drunk and crazy.
This was a fantastic Holiday show.

As is custom, below is a handy-dandy list of those local (Pacific Northwest, actually) records that really reverberated in me this past year. And it's all quite varied, which was a nice surprise: some garage, some psych-pop, some desert-rock, some hip-hop, some art-punk, some dance-punk, some black metal, and some glue-wave. Three Portland bands made the list (five counting the Honorable Mentions), and one from Anacortes, one who may not ever make another record and one big smart one who isn't really local anymore. DO YOU HATE IT? OR HEART IT?
.
10. The Curious Mystery – Rotting Slowly (K)
"Rotting Slowly, their debut on K Records, is a crawling, creeping panoramic desert-rock vista that intently blazes your brain, parches your senses, and allows you to quench with sweaty vocals and twist-heavy garage psychedelia dirges. Gothic Americana layered thick with ramblin' hippie blues…My favorite so far is "Nicaragua", a cinematic soundscape that earnestly plods through the grass fields, palms outstretched, searching for that familiar country home. Gonzalez masters his strings like a snake charmer, and the final flourish from a hypnotized Hudson really delivers." [Full Review]
.
9. Talbot Tagora – Lessons in the Woods or a City (Hardly Art)
"The trio's ardent output is rife with haunting, atypical rhythms, oblique guitars shrouded in drone and reverb, and echoing vocals cloaked cryptically in both their content and audibility. There are few refrains, and lyrics are made up of nonsensical tales, abstract imagery, and convoluted, anti-culture rhetoric. It's an arresting collection of angled, like-minded punk songs laced with a gaunt hypnosis, a deathly fluidity that demands repeat listening. If only to figure out what the hell is going on within all that chaos." [Full Review & .mp3s]
.
8. Champagne Champagne – Champagne Champagne (self)
"The self-titled album plays like a graphic novel written by John Hughes. And like a superhero's illustrious cape, it's wide-spread, dashing, confident and passionate, emblazoned with a bleeding heart nostalgia that captures exactly what you'd expect it to. Executed against the vivid backdrop of Mark Gajadhar's colorful, inventive, and electro-funk beats (not to mention a few choice samples, one of which fans of Mr. Rogers will enjoy), Pearl Dragon paints his heart on sleeve, coming across as neither hard nor soft but as a dynamic persona looking to right his wrongs." [Full Review & .mp3s]
.
7. Viva Voce – Rose City (Barsuk)
"Kevin and Anita Robinson are the masterminds behind Viva Voce, and, as the more countrified psychedelia of previous records might suggest, hail originally from Alabama. They've called Portland, OR home for most of this millennium, and found it so fit that they decided to write a song about it. "Rose City" is a swaggerin', struttin' fast-paced homage with some incredibly nimble—and often nasty—guitar licks. Anita, whose alluring, comfortable coo often provides a nifty counterbalance to her brash and fiery axe-swingin', sings "I wanna go back where it's grey and green / and the protest songs have tambourines". As a former Portland resident, I get giddy listening to this line." [Full Review & .mp3s]
.
6. The Purrs – Amused, Confused, and More Bad News (self)
"The quartet, for the most part, stays true to its atmospheric psych-pop maxims: vocalist/bassist Jima's lucid bellyaches about his heartbreaks and hangovers, eternally stuck in the doldrums, and Jason Milne's high-fret wandering manifestos. Like any good songwriter, Jima is adept at turning his written prose into singing poetry, often laced with cynicism and snark. The guy's probably had ten times as many breakups as you or I, yet he is nothing if not resolute, determined to shake off his funk, and preferably with a drink. There is a heaviness to this album that differs from their first two, as the band opts for less exploration and more immediacy in achieving their final compositions." [Full Review & .mp3s]
.
Josh Morrison is going to be back in his stomping grounds and playing a show (3rd year running) on december 27th @ the tractor w/cataldo and jennifer hopper after being bounced between Iraq and Kentucky by Uncle Sam. Josh's songs about longings for home and firsthand accounts of war are portrayed in sleepy tones and backed by his acoustic strummings and  simple percussions and are highlighted in his debut album (appropriately named) Home
.

.
jennifer hopper
Charge: $10adv/$12dos 8:00, 21+

MT. ST. HELENS VIETNAM BAND
Lake
the Beats, Man
Mt. St. Helens Vietnam Band may not be your catchiest rock'n'roll moniker -no one's mistaking it for The Strokes or Black Flag- but its five words stand for a Seattle band whose five members keep it close to home. Flanking frontman Benjamin Verdoes are, amongst others, his wife, Traci Eggleston, on keyboards, and his 13-year-old brother, Marshall, on drums. MSHVB, in fact, came into being as a form of fraternal encouragement. When Marshall took up the drums as an 11-year-old, Benjamin promised him that when he got good enough, they'd start a band together. And sure enough, by 2008, the two Verdoes bros had themselves a Mt. St. Helens Vietnam Band.
Jello Biafra, punk icon made legendary with the Dead Kennedys, is coming to town on the 29th heading up the "Guantanamo School of Medicine"
.
The blatant political foundation to this quintet is nothing new to Jello – beginning with  Dead Kennedys first single "California Uber Alles" and culminating in his runner-up nomination for the Green Party behind Ralph Nader. And now, GSM is no slouch when it comes getting Biafro's message of government corruptness out to the people. "The album explores how our forced Iraqnophobia and Homeland Insecurity continues to feed lawlessness at the top ("The Terror Of Tiny Town") vs. a runaway police state and class war towards the bottom ("Three Stirkes", "Electronic Plantation"). "Clean As A Thistle" becomes more timely every day as "Family Values" blowhards get caught in sinful trysts, while album closer "I Won't Give Up" offers an age of Obama anthem on how change comes from agitation from below, not glamor and soundbites from the top."
.
The sound retains the punk attitude of the Kennedys but with an extra dose of sonic guitar noise and drummed up a notch with the metal-like percussions of Jon Weiss on the skins.
.
JELLO BIAFRA and the Guantanamo School of Medicine ::
Doors at 8 pm ::
$17 adv :: 21+