Seattle Subsonic - June, 2009
Most of you were probably exposed to quite a bit of MJ-related coverage this past weekend, but since I was traveling to and from Boston for a family wedding, the media inundation on my brain was somewhat muted. I caught some CNN reports here and there in various airports, but nothing like it could've been had I been holed up with a laptop and an evening to kill. But since the first song I clearly remember being "into" as a five year old was the rough-and-tumble crossover hit "Beat It" (and I had the red wrist bandanna to prove it), I can't help but jot down some thoughts on an artist who made a deep cut in my musical life.
.
Initially, my reaction to the alarming news was sedate, and my good friends and family would probably be surprised to hear that. But thinking about it now, that was probably due to my being at work, getting ready to leave and hop on an airplane. Preoccupation. As the news seeped through my consciousness, though, I began to feel a definite sadness that an icon representing a crucial era of my life—and those of countless others—was now officially gone. And then the first time I heard his music after hearing the news, I actually felt heartbroken. In the car, I flipped on KEXP and Kevin Cole had just began "Working Day And Night", one of the criminally underplayed songs from Off the Wall. He played "Someone Great" by LCD Soundsystem next and dammit if that didn't hit home. Michael Jackson would never live up to Thriller, or even Bad, but three disgustingly historic and influential albums does make a man great, despite the depressing smears and stains of his later life.
.
Like you, I also grew annoyed, confused, weary, and eventually dispassionate with each passing debacle that MJ either endured or hurtled upon himself. From the myriad molestation charges, his "sham" wedding with Lisa Marie Presley, to his bizarre Neverland lifestyle and his shocking, seemingly unprecedented face transmogrification that might challenge his music as his everlasting legacy, there was truly never a dull moment in the man's life. We should know, he existed primarily in public. He lived, thrived, and survived on stage, whether it be an arena with 100,000 screaming lunatics or a hotel balcony while precariously dangling his infant son. Normal was not in his vocabulary.
.
Yet I will miss him. His music will of course live on, perhaps in greater majesty than before, but music is made by living, breathing humans—there is no denying that. With the man gone, the music becomes a cherished relic of history, an archived link to the past, and that is part of what saddens me. Michael was a true industry iconoclast: no entertainer did more damage to the demographic profiling of music genres than he. Young, old; black, white; wealthy, broke; punk, dance—we all loved him. We all loved witnessing his sick, otherworldly dance moves. Thank god for the music videos. Watching this Motown performance, I was taken back in time. His moves were/are second to none: the clean ankle shimmys, the electric pelvic thrusts, the stop-on-a-dime-and-spin, the hee-hee's, the hoo-hoo's, and of course, the Moonwalk. To say nothing of his ridiculous robot. God, that shit is tight. Name your post-MJ dance pop star and he or she has emulated Jackson.
.
Ok, he was a wacko. Agreed. But as it was astutely mentioned in the comments of this post, freakishness breeds great fucking art. Long live the King of Pop.
Poking out from under the shadow of last weeks Michael Jackson news, I just found this tid-bit something GOOD in the music world. Spoon will put a new single on the shelves as a teaser for their upcoming EP. My expectations are mixed as I was less impressed with their latest effort, Ga Ga Ga Ga Ga Ga Ga, then I have been with any and all previous releases. Though, it's pretty tough to match the genius that is Kill the Moonlight or Soft Effects, or Girls Can Tell.. and on and on.. And realistically, starting in a low place only leads itself to room to move up, right?
.
So here's a taste of what's in store. This single, "Got Nuffin",  will be accompanied by two b-sides entitled "Tweakers" and "Stroke Their Brains." It's got all the minimalism and simplicity marked with a slowly expanding sound that make up a typical Spoon track. It's nothing revolutionary, but the familiarity puts you in a comfortable place. It's available in CD and MP3 form on their site tomorrow (Tuesday)
.
Spoon: Got Nuffin
.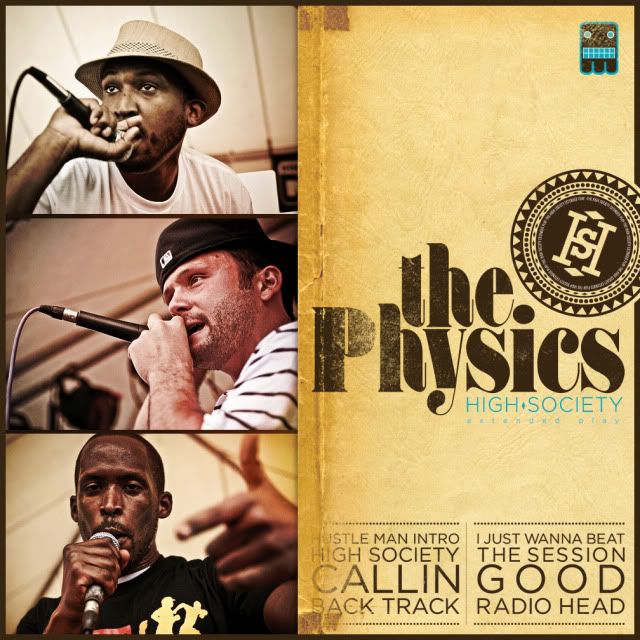 Straight from the Physics Blog! Click on the album image to download.
.
Two years after the release of their critically lauded full length debut, Future Talk, Seattle-based hip hop group The Physics are back with June 2009's release of High Society, an eight track EP of new material representing a natural progression both musically and personally. Steeped heavily in references to jazz and soul, Just D'Amato's production (alongside Phee Dill & Dyalect) provides the smoothed-out backdrop against which lyricists Thig Natural and Monk Wordsmith (absent from Future Talk but a notable presence here) do their thing and do it with skill. Featuring guest appearances by beastly Seattle MCs Language Arts ("Back Track") and Macklemore ("Good") as well as one of the year's most buzzed about local duos, the fresh-as-all-hell females of Thee Satisfaction ("Radio Head"), High Society dims the lights on the laidback aesthetic established in Future Talk and invites the listener to get real grown—and enjoy it. While this EP may feel like a main course, don't get it twisted: it's merely just a taste of what's to come, a prelude to an additional as-yet-untitled release slated for later in the summer.
I just heard that  Michael Jackson has died of a heart attack at 50 years old. Either he's gunna come up from the grave with a hoard of other zombie-types and chase the cute girl through town again, or this is the end of the line for the King of Pop:
.
From TMz-"Michael suffered a cardiac arrest earlier this afternoon at his Holmby Hill home and paramedics were unable to revive him. We're told when paramedics arrived Jackson had no pulse and they never got a pulse back"
.
I've got to be perfectly honest and say I'm not sure how this makes me feel. On the one hand (no glove puns intended) this is the music of my youth. Everyone I knew had a some sort of MJ paraphernalia that they wore while trying to pull off the moonwalk.  On the other hand, there is the whole Jesus Juice thing….
.
Either way,  RIP MJ.
Almost doomed by money woes ("must be the economy"), the Georgetown Musicfest was able to escape death this year by teaming up with a Seattle Weekly event known as Artopia. That's a clever name. I'd never heard of it until a few months ago, but apparently they had one last year and it also takes place in South Seattle's industrious enclave. Who knew?
.
Anyhoo, the joint shindig goes down this Saturday the 27th (74 and partly cloudy, people) with a bevy of local bands (duh). Looking at the lineup, I must admit, it's not as strong as in years past. BUT it is chock full of names that you frequently see around town on telephone poles and in "weeklys" that you haven't quite got around to checking out (the Quit, Redwood Plan, Hallways, H is for Hellgate, Spanish for 100, etc.). Ok, ok, I know SHIM has a lot of fans in Seattle, and I'm sure their swagger-heavy power rock will sound just fine on a small outdoor stage. Ditto for the Hands.
.
As usual, two stages will usurp S. Vale St.—the Rainier Stage and the Georgetown Stage—in addition to one inside at Jules Maes. There will be beer gardens I'm sure and OH DID I MENTION IT'S FREE?! Yep, now you have no excuse not to go, except if you'll be outta town like me. That's a pretty good excuse, I think.
.
Schedule and lineup after the jump/cut/fold/whatever.
I must say, I'm totally crushing on the new Grizzly Bear album right now (those not into soft and weird chamber-pop, feel free to move along). Veckatimest—still trying to figure out which syllable to stress in that one—is the third full-length from the Brooklyn-based quartet, and is about as labored and detailed as studio albums get, or at least compared to anything I've heard over the years. Musically, it won't necessarily remind someone of, say, Smile, but the careful orchestration and labyrinthine song structure are certainly reminiscent of that widely influential record. The band has also been compared, 'specially in these Cascadian parts, to Fleet Foxes, another popular chamber and folk-pop group of whom you might've heard. It might be more appropriate, however, to flip that comparison around, given that GB's Yellow House was released almost two years before Fleet Foxes' debut. Splitting hairs, probably; the point being that if you like one, chances are you'll like the other.
.
I didn't dive into Yellow House the way a lot of people did, so I'll refrain from any real album-to-album comparisons (my one live experience with Grizzly Bear three years ago, strangely enough, also didn't produce much affection on my part). But going back through to listen again I can definitely see its appeal, as well as the indicators of where the band ultimately ventured. Where that album was more expansive and atmospheric, Veckatimest seems to be more organized, focused and refined. The production is luxuriant. Even the album's title is more particular, named for an island near Woods Hole in Massachusetts. That's not to say that the band has "changed" their sound—they haven't. This is Grizzly Bear, only better.
.
Like with any beguiling record, there are a handful of songs that truly stand out, and if you've spent any time at all listening to or reading about this one, you aren't likely to be surprised by my picks. "Two Weeks" is the popular front running favorite, its exemplary video of the band members' pasty, incandescent faces slowly exploding into Piccolo Pete-type fireworks. Daniel Rossen's (also of Department of Eagles fame) jumpy, plaintive piano lights the match while Ed Droste's classic tenor spirals into the ether (Save up all the days / A routine malaise). Harmonizing is key for this band, and they succeed at it without show or pretension. My absolute personal favorite, however, is "While You Wait For the Others", a bouncy folk tune with a goose-bump-giving chorus (So I'll ask you kindly / to make your way / Ooooooh!). Rossen provides lead vocals this time, deliberately strumming his reverberating hollow-body to absolute perfection.
.
"Cheerleader" is a vintage pop song that will fetch sun-drenched thoughts of easy Saturday afternoons at the beach, with a babe and a (surf) board. A celestial choir wafts through the background. "Ready, Able" has more cinematic intentions: Rossen's guitar purposely chugs along leading the brigade, while Droste gracefully laments a lovelorn decision. What's impressive is the turn the song takes, as warbly keys echo throughout like bitter birds and a tapestry of strings, chords, and effects gush forth. This song ably exemplifies the band's songwriting prowess.
.
"Foreground", the album's most pious track, is sparsely adorned with a piano and Droste's allegorical narration. A deep kettle drum provides a chilling backdrop. Somehow, at the very end, the band was able to complete an extremely ornate and lush offering with a simple, spartan song. Veckatimest is an actual place, but it's also a fictional location of fantastic proportions, conceived and composed by Grizzly Bear. Lately, all I want to do is put on the headphones and travel there.
.
"While You Wait For The Others"
The Mars Bar seems to be vamping up it's calendar more and more every month. Coming up in July, there will be a load of sound and vibrating energy crammed into the little intimate space as the Seattle's own The Hands take it to the joint with their soulful Gospel-Rock sound. Joining them are the flippant if not mind boggling The Beats, Man and the Ironclads who are slowly sinking their angry "hooks" into the Seattle music scene. (Ha! it's a music pun, you see.)
Saturday, July 11 – Mars Bar
9 p.m || $6 || 21+
This summer, KEXP and Seattle Center extend their Mural concert series for 5 weekends through July and August. On the bill are an eclectic spread of bands ranging from Portland's 6 piece harmonious Blitzen Trapper (July 31) to the tight rhymes of Seattle's Dyme Def. (Aug 7) This year's series also incorporates the famed KEXP BBQ into the fold. A previously "private" event that I believe has gotten too big to fit in either the KEXP parking lot or Denny Park across the street. The show are mostly on Friday nights on the Mural lawn (aka Bumbershoots Blues Stage – directly under the Needle) with the exception of the KEXP BBQ show which is in the same location on a Saturday night.
.
Take advantage of the warm summer nights and take in the tunes from some of KEXP's favorite artists. The five FREE all-ages shows (KEXP BBQ has a 12+ beer garden) are tailored to the culturally curious who seek to discover the best of the area's independent music scene.
.
Friday, July 31 from 6 – 8 PM
Blitzen Trapper
Throw Me The Statue
.
Friday, August 7 from 6 – 8 PM
Dyme Def
.

Saturday, August 8 from 2 – 9 PM
KEXP BBQ (more artists to be announced)
UPDATE – Dinosaur JR!!!
Cymbals Eat Guitars
Japandroids
.
Friday, August 14 from 6 – 8 PM
The Dodos
Army Navy
.

Friday, August 21 from 6 – 8 PM
Fruit Bats
You can also check out Gossip's new album over at Spinner, probably through Monday 6/22. (Say, when did they drop the 'the' from their name?) The record is titled Music For Men, will be released June 23rd and was produced by Rick Rubin, who MTV called "the most important producer of the last 20 years". Well then.
.
The Portland-based band is fronted, as you know, by the Aretha Franklin of Punk in Beth Ditto who, as you know, has done her share of barrier-breaking in the conventional sexuality arena. Music For Men undoubtedly focuses on her incredible voice, with glossy guitars and jagged punk/funk dance rhythms struttin' along with her. Brace Paine sounds really solid and sinewy throughout. The album's a bit overproduced (thanks, RICK) and might catapult them into mainstream-land, but it does succeed on other levels. Ditto and her bandmates aren't shy and their tunes raunchily flaunt their collective persona. The one that says "fuck you, let's rock". Many of the songs are catchy as hell and probably will sound awesome in a live setting. "Four Letter Word" gives a head nod to the Knife and is one of a few tunes that slows down and really simmers. "Love Long Distance" utilizes a piano to get out the boogie and probably doesn't even need a remix to be a dancefloor hit. And there will be dancefloor hits.
.
Hey, another fun fact: drummer Hannah Blilie is the fraternal twin of Jordan Blilie, singer for Past Lives and, of course, the Blood Brothers. Talented family.
.
You can download the first single "Heavy Cross" here, or just watch its fancy video below.
.

The Builders and the Butchers, Portland's gothic folk rock ambassadors, have released their second full length album, Salvation is a Deep Dark Well (Gigantic) and will be having a good ol' fashioned CD release party at Neumos this Friday (6/19). I saw them there at the Block Party last year and was pleasantly surprised. It actually kinda knocked my block off.
.
Lucky for us, in advance of this show, the band has the record streaming over at Spinner (I think they reload on Release Tuesday and stay up for a week). Go take a listen. Go on. You might like their raucous take on boot-stompin' biblical beats; don't worry, it's ecclesiastical in the tragic vein of a Nick Cave and not the annoying phony-baloney of, say, Michael W. Smith <shudder>. Actually, they just like to reference the Devil and hell and salvation (see title) and angels and weariness and vampire lakes. Are vampires religion-oriented? I suppose to some people they are. If you're not a lyrics wo/man, then stick around for the surefire intensity of bandleader Ryan Sollee and his cohorts' unbridled performance glee. They'll have it in spades. They feature a lead mandolin player and two drummers, for chrissakes. You guys probably know all this already, but my boss requires me to put a little effort into these "blog posts". SORRY.
.
HT: SOTS
.

Postscript: did you know they're all from Alaska? I had no idea.
.
w/ Loch Lomond, The Globes
8PM Doors
$12 ADV
21+