March 24th, 2009
Man, you gotta love the street buskers here in Seattle. I was down at the Market this past weekend and snapped a few photos of Slimpickins. I only stuck around long enough for one tune or so, but it was pretty boisterous. I felt like I'd been transported back in time 150 years, especially when the lone female in the group summarized the song by saying, "That one's called [insert song title], written by Annie Ford. That's me." Her name alone won style-points in my book. Not to mention the steel standup bass the one guy had. Not sure I've ever seen one of those.
.
I couldn't remember if I'd seen Slimpickins down there before, but it got me thinking about the other busking mainstays along Pike Place, and downtown in general. One of my favorites is the old ponytailed guy playing his out-of-tune, mini-upright piano. As sure as the sun does rise, you can find him at the end of Pine Street, facing the market and serenading the passers by. Given his barely audible voice, I like to imagine that he's singing about Unicorns, wizards and various winged creatures. My girl and I have also fiercely debated his albino-istic features. Then there's the rowdy, a cappella soul/gospel/R&B group (noticeably absent this weekend). There's the Ecuadorian (or is it Peruvian?) pipe-and-flute group, but they seem to mass-produce those guys for all festivals, fairs, and street corners. And there's the one-man-band, robo-techno dude with the crazy getup usually outside of Nordstrom. A group of teenager rock wanna-bes has been inhabiting the space outside Pacific Place a lot lately, complete with battery-powered amps.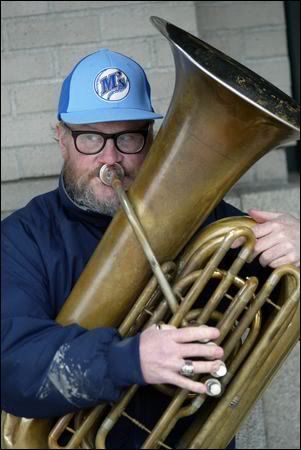 .
Of course, my all-time favorite busker, the Tuba Man (aka Ed McMichael), was tragically beaten and killed by asshole teenagers this past October. Despite never conversing with the fellow, I felt like I knew the Tuba Man. He was as ubiquitous as they come, as far as sporting events were concerned. Even in the days of the Kingdome, as a youngster going to ballgames with my dad, I'd see him out there. He was busking in Seattle.
.
Help me out, did I forget any other notable Seattle street musicians?