Seattle Subsonic - November, 2008
Rivers Cuomo, whom you might just know as the lead singer and songwriter for a little band called Weezer, is releasing a collection of demos & home recordings on Nov. 25th titled Alone II. This is the second volume of self recordings released Cuomo, the first one having came out in December off last year. Rivers is well known for being an incredibly prolific with his unreleased material hosting over 800 recordings in the quivver. The demos and recordings on Alone II were all recorded between 1992 to 2007. Including a 3 song mini suite from the highly sought after "Songs From The Black Hole" and even the Beach Boys cover "Don't Worry Baby".
.
.
We at Seattle Subsonic also have a copy of a this limited edition lithograph (pictured right), signed both by Rivers and the artist who created the litho. To win our copy of this artwork, send an email here (info at seattlesubsonic dot com) with Weezer Litho in the subject. Winner will be chosen at random on Monday, Dec 1st.
Congrats to Ryan for picking up the litho and thanks again to Brendan over at DGC & Interscope Records

.
.
.
.
Read about Vashon's Venus Verse and download their excellent debut EP HERE.
of Montreal just got back from Sunlandia, they'd been there many times, and brought back many enchanting, orchestrated, pop songs to document their travels across this parallel world.  Except this parallel world is all locked down inside Kevin Barnes' head, or maybe Georgie Fruit's.  Confused yet?  Don't be, it is what it is, except it, it's of Montreal, and it's great.
.

of Montreal was (is?) part of a second wave of performers to be born out of Atlanta Georgia's Elephant 6 Collective, which also includes Neutral Milk Hotel, The Apples in Stereo, Elf Power, and the Music Tapes, along with many more amazing fuzzed out folk/pop bands to whom many diverse genres of music now owe some type of imminent homage and definite respect.  The band began as a lo-fi aesthetic pop group that bordered on folk, dealing exclusively with semi-autobiographical psychedlia, but since the early to mid 2000's has shifted to being an electronic-glam-pop outlet for Kevin Barnes' (The primary entity behind of Montreal, though his alternate personas have been creeping in lately…) concerns and experiences involving various not so pop-y subject matter, including family problems, depression, and introversion, all with a sugary sheen of production value and impeccable melodies.
.
The show started out with noise rock quartet HEALTH, who sounds like a dial up modem multiplied by punk rock and mild hipster stardom, in the best, and most obvious way possible.  Characterized by atonal, heavily affected guitars and blasting drums, the band was well received by the crowd, but seemed like a strange opener for an act like of Montreal.  With only one album worth of material, and of which most people would only remember Crystal Castle's remix of "Crimewave", the band opted to, in keeping with their style, play incredibly loud, vaguely melodic drone music, which was not in keeping with of Montreal's style or fan base at all.  Regardless it was entertaining and the band was obviously into it, which is always a plus for me.  At this point I was psyched.
. Read the rest of this entry »
Anyone who has been active in the Seattle punk scene likely knows the band Success!, although possibly under their old name, Rough Chukar. The three piece turned four piece turned three piece have been playing all around the Puget Sound for years now, and it would be hard to imagine the local punk scene without Rev and the boys. Yet, this is what is about to happen, as the band is moving to San Francisco at the end of the month. For many of us, it will be a huge loss. Everyone knows Rev, and if you don't, then I guarantee you that you know someone that does. And for that reason I think it is important that we all make it out to the Success! going away show to wish them well on their big move.
. 
Success! plays punk rock in the way it is meant to be played…full of raspy vocals, driving guitars, and with boozed drenched heart. They are some of the nicest people you will ever meet, and are quick to welcome you into their home whether you are a touring band or just a friend of a friend. I, myself, met the guys at a show last January and we became fast friends, eventually meeting up and spending a day together in Las Vegas, NV at the Atomic Testing Museum. They are also the epitome of the D.I.Y. ethic, recording all of their own music and making all of their own merch.
.  
It was not that long ago that Rev and Austin came out to my radio show on KGRG to be interviewed and play some songs for the listeners. Because they are a punk rock band, it was fascinating to hear the songs broken down to their most basic form on an acoustic guitar. What transpired was one of the best on-air radio performances I have heard in quite some time. Here are a couple of examples for your listening pleasure.
. 
Two Shots for Mick (Live on KGRG)
[audio:http://www.seattlesubsonic.com/wp-content/uploads/2008/11/rev-03-two-shots-for-mick-live-on-kgrg.mp3]
A New England (Live on KGRG)
[audio:http://www.seattlesubsonic.com/wp-content/uploads/2008/11/rev-04-a-new-england-live-on-kgrg.mp3]
. 
While Success! leaving us is a sad moment in the Seattle music world, we do have one more chance to celebrate with them…At what is being dubbed Success! Fest! '08!, Success! and many of their friends will be coming together to play a day long bash. All of the bands are local, and they are all tremendous, so be sure to make it out!
GRN STRP House
819 NE 70th St.
Seattle, WA 98115
w/ Success!, The Hollowpoints, The Damage Done, Dateless, Marginal Way, Anchor Down, and Down We Go
All Ages / 4 PM / Nov 29 / $5
If you ever tune into John in the Morning, then you know the poor dude has been pumpin' this show HARDCORE. Can't say I disagree with him. The excellently ambient star-pop album from M83 (aka Anthony Gonzalez), Saturdays = Youth, will undoubtedly be on lots of folks' year end lists come next month. Can't say I'll disagree with 'em. Honestly, I haven't listened to any of the Frenchman's other albums at length, but I do know that his latest is a wonderfully crafted wash of rich, shoegaze nostalgia and futuristic electro pop. "Kim & Jessie" is pure bliss with its secret lovers and squealing rhythms, and "Couleurs" is an intense 7-minute excursion into the depths of a vast musical ocean.
.
You'll no doubt be reminded of some John Hughes flicks (see pic below), and its quite possible you might wake up hungover on the lawn of the handsomest boy in school after a complete and total year-end rager. You also might make out with Blaine in a parking lot (with Ducky's blessing, of course), or spend a Saturday in detention with a bunch of misfits you never thought you'd like. You just might.
$13 ADV
8PM DOORS
21+
Good ol' fashioned American punk and garage rock at the oddly sleek King Cobra. Record release show for the Whore Moans. Crazy carnival punkers Wild Orchid Children (kind of like a low budget, stripped down Man Man, but less…cartoony) support with the Rolling Stones-ish Hands.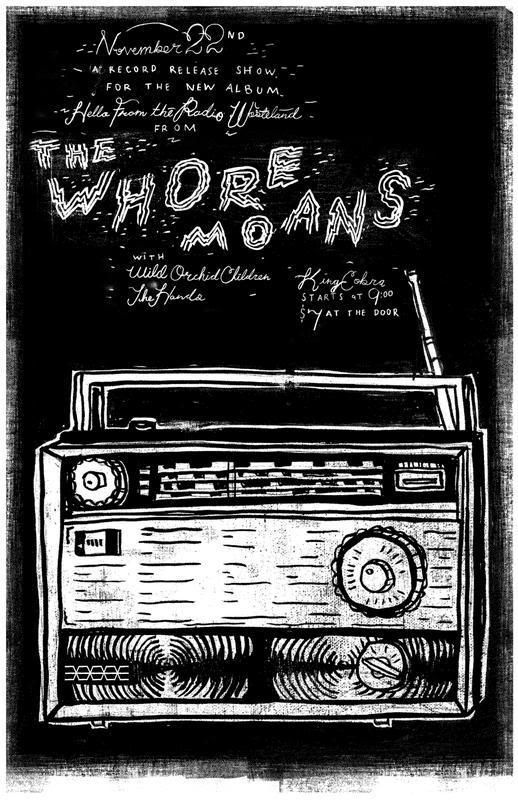 21+
9pm
Over the past couple years, there has been a growing surge of interest in the super smooth stylings of the great Michael McDonald. With a history of smoothin the edge off the Doobie Brothers and smoothing off the ladies panties with Steely Dan, it's not hard to see why.
.
First, in the 40-Year Old Virgin, the Mac graced (read:tortured) the fellas of SmartTech with a constant soundtrack "..if I hear "Yah Mo B There" one more time, "Yah Mo" burn this place to the ground." The other night on SNL, Justin Timberlake eluded to his incredible Mike Mc impressions, and now I have recently been exposed to Yacht Rock. The DEFINATIVE history of the smooth and easy hits to spawn from '76-'84. (AKA the McDonald hay-day)
So without further adieu, I present Yacht Rock! (5 more episodes after the break!) (Not really work safe)
.
Swedish retro art punks Love Is All (who are basically an awesome combination of the Yeah Yeah Yeahs' raucousness with Les Savy Fav's hooks) team up with Brooklyn's fuzzed out girl punks, Vivian Girls, at the Nectar. PUNKS!
Love Is All
Vivian Girls
Nodzzz
8 PM / 21+
$10 adv
In case you missed the original, I'm reposting this so you know how stoked I am for this show tonight. Haven't listened to much else besides Deerhunter this month (that's partially a lie, but mostly true).
.
The exclamation points are for excitement; excitement that one of the most intriguing bands in recent memory—Deerhunter, led by the enigmatic and boundlessly creative Bradford Cox—is playing Neumos with a band, Past Lives, whose 2008 choppy yet fluid debut I absolutely loved.
.
I've been literally pining to see the Atlanta-based Deerhunter live ever since I fell in love with their dividedly peculiar bust out record, Cryptograms (I still think "Heatherwood" is one of the best songs I've ever heard) earlier this year. In a move that surprised even the most loyal of the band's fans, Cox released a super-secret second disc, Weird Era Continued, to complement the much anticipated and gentler Microcastle. Within this latest opus, there are dissimilar elements of both the Velvet Underground and Sonic Youth; Cox even resembles the tall, lanky Thurston Moore, and, at times, sounds like a younger Lou Reed while strumming solitary guitar chords. But what really stands out is the achingly beautiful strangeness that permeates the nebulous layers of guitars, dissonant soundscapes, transformative song structures, and plenty of oddball (and often unintelligible) lyrics. Lots of kick-ass basslines, too.
.
A show not to be missed. In fact, I've already got my tickets; you should have them, too. Cox's blog is worth a gander, as well. Lots of cool info, but the gems are his downloadable Micromixes, podcasts (if you will) of interesting music currently catching his ears.
.
DEERHUNTER
TIMES NEW VIKING
PAST LIVES
.
$12 ADV
8PM DOORS
All Ages/ Bar W/ID
Hey everybody…I am a new blogger here on Seattle Subsonic and I wanted to take a quick moment to introduce myself so that you won't be sitting around, scratching your head, saying, "who's this guy?!"
.
I started in the music world back in 1998, when I began a weekly radio program on KSCU, Santa Clara 103.3 FM down in the Bay Area. During my time in the Bay, I was a music editorialist for The Santa Clara and worked at KSCU Radio in many different capacities (beyond Disc Jockey), including General Manager, Program Director, Promotions Director, and Fundraising Director. I was also a concert promoter and was voted Silicon Valley's Best Disc Jockey of 2001 and Best Local Celebrity of 2002.
.
Upon returning to Seattle in 2003, I began working at KSUB, Seattle 89.1FM as a Disc Jockey and Music Director. After Two years as MD, I became the General Manager of KSUB. Since 2006, I have continued on as a DJ on KSUB, and have added an all local show on KGRG, Auburn 89.9FM. Soon I will also be starting a show on Hollow Earth Radio.
.
In the Summer of 2007, I became the co-founder of Saku Collins Entertainment & Media Law Group, PLLC, a D.I.Y. law practice focusing on providing affordable legal representation and counsel for independent artists and businesses throughout the United States. I also continue to write, as I write an Entertainment Law column for Lubricated Zine and blog avidly on politics at my own personal blog. I am also in the process of aiding in the creation of a network of resources within the arts community across the Pacific Northwest called D.I.Y. Northwest, and an accompanying zine called Bad Zine, Everybody's Fault.
.
Enough about me…ON TO THE MUSIC!