November 12th, 2008
'Tis the season for hip hop in the 206. Around the same time every year, as the leaves start falling and the nights get colder, venues all over Seattle begin filling with heads. National tours start rolling through and the locals bring out their best. Lineups are always solid in the fall and this month is no exception.
.
November is especially significant this year because SeattleSubsonic, People United Saving Hip Hop and Sportn' Life Records are coming together and shining a light on the best our city has to offer. Starting today, we will be running a three piece article on the label, its roots, its future and most importantly…the music. These pieces will all lead up to the Novermber 15th edition of Graffiti Rock! at the Sunset Tavern in Ballard, where their top artists will take the stage. Then, the following week SeattleSubsonic Happy Hour will feature the Sportn' Life camp and they will be on hand to talk music, provide some giveaways and crack a brew or two. So sit back and learn something, then go check out the show, and the happy hour, to get familiar with this crew that's about to have its big come up.
.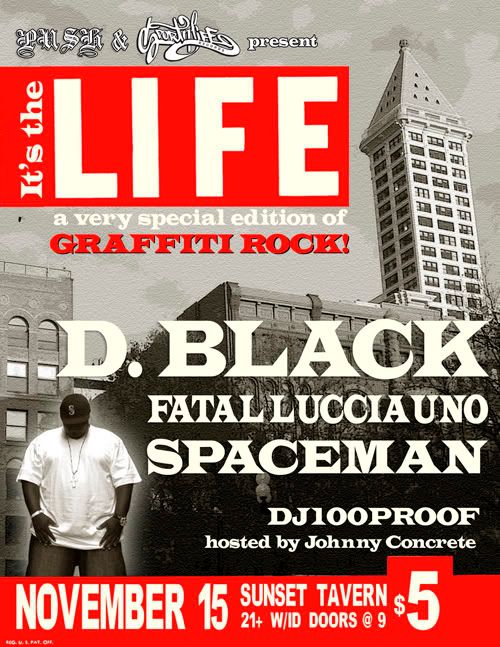 The label got it's start almost 6 years ago in Seattle's Central District. An area that once thrived with hip hop culture and had a nationally known chart-topping rapper as it's ambassador saw itself disintegrate in the mid to late 90s due mostly to drugs and gang violence. The music had been absent from the CD since the days of Mix and Nasty Nes and left a large void in the local scene. This lead founder DeVon Manier to take it upon himself to set out and put it back on the map. The first step was to get the town reacquainted…
.
Sportn' Life put out its first compilation focusing on artists that made the CD their base of operations in 2003 and the town took notice. Acts like Vitamin D and Old Dominion impressed new listeners and wiley veterans of the scene alike and paved the way for the label's younger generation of talent to take over. Since then they have put out some of the most heavily rotated albums in any Seattlite's collection. D. Black's 'The Cause and Effect' and Fatal Lucciauno's 'Only Forgotten Son' are two of the best albums to come out of Seattle, let alone the Central District, in years and deserve a listen from anyone that claims to be a hip hop fan.
.
D. Black and fellow SnL crew member Spaceman were featured on the excellent debut from Seattle beatmaker extraordinaire Jake One's White Van Music. D. Black has been showing a more introspective and philosophical side as of late and his track 'God Like' is a perfect example of what can go right when an MC steps outside of the box. It's an amazing song. Then Spaceman blesses 'Big Homie Style' with one of the fiercest verses I've come across in 2008. Lines like "Speak when you see me, say 'what up homie?' My name's Space, you gotta look up to me" put the exclamation point on a solid track by of some of the towns best up and comers.
.
One of the things that stand out about Sportn' Life is the fact that their artists are all fairly young. Everyone on the roster is in their early 20′s or younger. D. Black and Fatal were first discovered when they were 14 years of age and have really come up nicely. Being surrounded by a solid production team and promotional machine are one thing, but that doesn't necisarily translate to good records. SnL has the best of both worlds. They have found some of the most talented raw lyricists in the town, paired them with good beats and strong promotion and have developed them into headlining artists that can sell solid numbers and draw large crowds. In Seattle's somewhat over saturated scene, it is nice to see the cliques that have all their ducks in a row, know how to market themselves and put out a quality professional product become succesful. You get out what you put in, and clearly SnL knows how to invest it's time and energy wisely.
.
Get Familiar.