Seattle Subsonic - September, 2008
Deerhoof is more than just a progressive band, they are actually a driving force for OTHER bnds to create progressive music. Their initial single from the upcoming album, Offend Maggie was released first as sheet music. The result was 39 cover versions of every possible description having been created and posted to their site. On sept 30th, the world will get to hear Deerhoof's original version as the album hits shelves.
.
If you've never heard of Deerhoof, they are a Bay area 4 piece with Japanese/English lyrics from the frontwoman Satomi Matsuzaki. There have been comparisons made with Stereolab and Captain Beefheart and they are typically classified as indie rock, but the unconventional nature of Deerhoof's music makes a genre label difficult. The music contains just as many beeps and click as lyrics. It's a concise patchwork of odd harmonies and disjointed melodies. More avante garde and pop craziness than indie can ever account for, in my opinion.
.
For those of you who already know all this drivvel, I've got something that JUST might pique your interest. A pair of guest list spots to the upcoming show at Neumos on October 7th. To enter the drawing, email me with DEERHOOF in the subject. Winner will be picked at random and notified Thursday morning and posted in the "Contests" area.
There's been plenty of great national acts coming through town lately, and Brooklyn hip-pop (pop-hop?) rocker/dancer/rapper/fashionista Santogold is no exception. Her self-titled debut record is a bonafide genre-bending, booty-shakin', sing-along mash-up of punk, hip-hop, dub, and dance, and she's been compared (both scornfully and approvingly) to M.I.A., Gwen Stefani, and Missy Elliot. I don't normally keep these big ticket pop artists on my radar, but I actually dig her album quite a bit. Where M.I.A. can be a bit choppy and grating, Santogold is a bit more smoov; where Gwen Stefani panders to the masses with catchy dance hooks, Santogold keeps her cool, punk-rock edge. Plus she got Spank Rock rappin' on her rekkid—he'll make you go BUMP.
While the album is fairly solid front to back, it's the first 4 tracks that'll have you spittin' gold (like here album cover—duh). Just try to forget that you heard a couple of them on those lame Bud Light Lime commercials.
MATES OF STATE
ALICE SMITH
LOW VS DIAMOND
$22.50 ADV / $25.00 DOS & at the door
Doors at 7pm – All Ages
Hey, wanna go see Seattle's best harmonizing five-piece not named Fleet Foxes? Grand Archives are just that and it's too bad the band doesn't get more favor (side note: maybe they do and I'm just ig'nant). Their debut on Sub Pop, The Grand Archives, is beautiful, lush, mesmerizing, and with just enough rock to make you creep around my back stair. Mat Brooke is painfully honest when he paints his vintage, picturesque scenes and stories, and the sunny, country-rock vibe illustrates the bright soundscapes the quintet has deftly crafted. Notable record guests are Sera Cahoone and Jenn Ghetto (S).
If we're lucky, they might play some new cuts. Course, if you can't make it, you could always patronize the Mat Brooke-owned-and-operated Redwood tavern. There are usually lotsa feral children running around there. Here's a review of last time I saw them in back in February.
ARTHUR O: (OF ARTHUR AND YU)
SHIPS
$12 ADV
8PM DOORS
21
Check out Champagne Champagne's awesome poster below (I don't have to tell YOU who that is). And then check out this video from Dan Le Sac vs. Scroobius Pip, his infamous 1,000 commandments glitch-pop tirade from last year, "Thou Shalt Not Kill". Most likely you've seen it, but don't forget, they're just a band.
For related info on C-squared, go here and here. I-like-it-a-lot.
DAN LE SAC VS. SCROOBIUS PIP
B. Dolan
Champagne Champagne
Giraud (DJ Set)
$10 adv
8pm doors // 21+
Little more info (from me) about D&D (dungeons and dragons) here.
$10 ADV
8PM DOORS
21+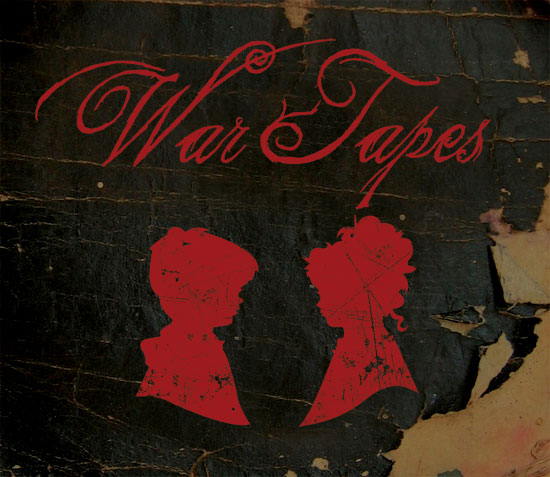 Don't ask me why, but the first comparison that came to my head for the lead singer of War Tapes is a mix of Morrisey and Glen Danzig, and put those two together, you're bound to have a damn entertaining live performance! That's exactly what I thought the first time I listened to the their eponymous EP release. A polished rhythm and the deep guttural voice of Neil Popkin leads one to believe that this is a band that has put a lot of work into delivering their unique sound. According to their MySpace page, they describe their own sound as 'Doom Pop', and a comparison to Danzig certainly lends credence to that description, but it's hard for me to label their sound as such when listening to the focused precision they put into all their instruments. I definitely sense some angst and longing in their music and lyrics, but there is no doubt this is a band that enjoys playing their style, which just doesn't mesh with the 'doom and gloom' genre.
.
It's not often a band comes along that highlights all their instruments at once, and for this reason I can't wait to see War Tapes live. The typical style of a performance is for the lead singer to be in the spotlight, and slightly steps away when the guitarist gets his (or her) time for a two-minute solo. I heard something unique in the song 'Start Again', guitarist Mark Bennett really carries the song with his slightly punk-influenced guitar playing, and the song is such that Popkin's voice almost is meant to be the back-drop, that maybe gets a bit of time for his own solo. Solidly holding the rhythm together are Becca Popkin, whose new-wave inspired bass playing and subtle back-up vocals compliment her brother's singing, as well as William Mohler, a drummer who brings to mind the style of Keith Moon which isn't concerned with solely keeping up the rhythm.
.
I haven't seen any dates where they're playing in the Pacific Northwest, but I definitely want to keep my ear to the ground for this band, and I recommend you do as well!
.
UPDATE!! to grab War Tapes' newest release, Continental Divide, click here
Portland's genre-bending, mouth-agape-inducing duo Talkdemonic will be celebrating the release of their awesomely titled third LP, Eyes at Half Mast (Arena Rock). Kevin O'Connor is at the helm once again, beautifying his torrid drumscapes with picturesque, thought-provoking electronica, Lisa Molinaro's cello and viola elegance, and sturdy production. The music is instrumental, and experimental, but it is not boring—their last record, Beat Romantic, garnered plenty of spins on my bedroom stereo. If you fancy yourself a drum-o-phile, do yourself a favor and check out this set.
w/ Dykeritz & Guests
$8 / 21+
I admit, I haven't been a Nick Cave fan for years and years on end; in fact, I only heard the Birthday Party for the first time a few winters ago. And I don't necessarily identify with the ripened Goth contingent (still sporting black lipstick, mind you) that has fastidiously followed him and managed to snatch up all the tickets before the all-ages crowd could say "murder". The man commands respect, however, and I dove in head first with his disgustingly lovelorn and unhinged side project, Grinderman, last year. Needless to say, it sparked a sort of severe interest this brain hasn't seen since it discovered David Bowie, the statuesque glam-queen by whom all other bold, iconic musicians I now judge.
No, Cave doesn't have the same history and widespread appeal that the Thin White Duke has enjoyed over time, but as his work with three successful bands and on countless film scores over the span of thirty-five years (!) would suggest, the old bugger obsessed with "pussy, murder, and God" has definite staying power. And the other night at the Showbox Sodo (9/23), the greasy, grimy character and his cohorts showed us exactly how it's done.
The show began with a new Bad Seeds murder ballad from Dig, Lazarus, Dig!!!, the ominous "Night of the Lotus Eaters", dark blue lighting enhanced by Martyn Casey's dark, unwavering bass line. The title track from the record came next, and, honestly, it wasn't nearly as impactful as the studio version. They changed up the instrumentation somewhat (which would be a general theme for the rest of the set), and it came across a bit hurried. Nevertheless, the intensity of the band would soon increase and the struttin' and pacing, pointing and cursing of Cave would follow.
Despite the overwhelming presence of the perpetually vexed Aussie entertaining the crowd with his brash and boozy storytelling, the band was certainly able to keep up with the pace. Mick Harvey, one of the two original Seeds along with Cave, switched continuously from electric to acoustic to keyboard; Jim Sclavunos manned two of three (!) drumkits, one of which was a set of conga drums; and Warren Ellis—the Charles-Manson-with-a-boudoir lookin' guy—absolutely tore it up on his guitar. Not to mention his work with the violin (both with finger and bow), coffee can, and Jethro Tull-style rock flute. As pictured below.
The set list the band put together consisted of several tracks off Dig!!! and then one or two from some of the older records like Tender Prey, The Good Son, and Abattoir Blues/The Lyre of Orpheus. One notable omission was anything from Let Love In, which, along with Murder Ballads, is the trademark record for this band. Despite that exclusion, however, the older cuts they did manage to play were fantastic and filled with passion and power. "Stagger Lee" showed Cave at his indulgent showman best; "The Mercy Seat" and "The Lyre of Orpheus" got the crowd emphatically singing along; "Get Ready For Love" rocked from beginning to end; and "The Weeping Song", maybe the highlight, was turned up a few notches to match the rowdy spirit rolling through the venue.
In short, the band was tighter than the vintage pinstripe suit Nick Cave sported.
There're a few more pics after the jump. 
Local legends Common Market are on tour touting their newest release, "Tobacco Road" and will be appearing with Shawn Jackson and People Under the Stairs. Make no mistake, this is another outstanding value for a show in a time when cheeseburgers can be twenty bucks and a 22oz of good brew is $5 at the market.
.
All three acts are on tour with new material. Common Market, featuring RA Scion and Sabzi, has a solid new set of tracks in "Tobacco Road", and it outshines the last effort of Sabzi's other project, the respected Blue Scholars. Somethin' in the way of Scion's delivery… this LP should make Seattle fans of hip hop proud.
.
There's been some noise here recently about Fun DMC, from People Under the Stairs, so all I can say is get on down there and give it it's due. Really solid hip hop from LA. And Shawn Jackson's record, produced with help from PUTS, is a little harder-hitting than the other two acts. Expect to see a movin' crowd when he's on stage.
It's going to be a routine of good Cop, bad cop next week in Ballard.
Business partners Drew Church and Ben Shepherd are dusting off their four-stringed instruments and taking to the Tractor's stage with their respective bands for a fundraising event. The Cops have been absent from the local concert calendar for a few months, and Hater hasn't been on stage since…. uhh, Bill Clinton was in office? Quick history lesson: Hater was a short-lived Soundgarden side project, made up of Ben and Matt, amongst other musicians. My expectations for the headliner Hater are divided between 1) being blown away by Matt Cameron's always-amazing drumming and 2) increased disdain for the always-caustic, but puzzlingly magnetic Shepherd.
.
The Curious Mystery will also appear on the bill, a week before their appearance at the highly-anticipated Reverb Festival. Their record, Go Forth and Gather, is a collection of songs that seem closer related to the freer-form garage rock of Ben and Matt's project than the loud, Clash-influenced assault of The Cops. No doubt that this is a solid bill, well-worth the twelve bucks at ticketweb.com.